Supercharge Your Game
Harnessing the in-built cellular connectivity offered by M5 GPS*, M7 GPS and M-TECH GPS models, the Motocaddy Performance Plan takes trolley technology to a brand new level. Available now through a great value annual subscription package, the cutting-edge plan unlocks a selection of never-seen-before performance-enhancing features, including: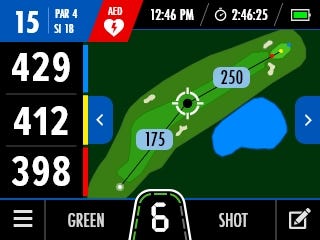 Full Hole Mapping
Access to full hole mapping for over 40,000 courses directly to the trolley handle. Quickly check distances to hazards and lay-up points with a touch of a finger.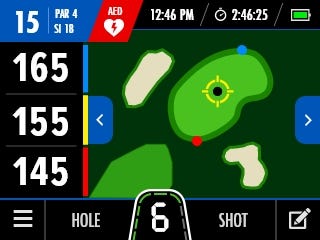 Detailed green view
Take green information to the next level, with visibility of greenside hazards alongside dynamic green view and drag and drop pin positions.
Scoring & Statistics
Track your performance by entering scores and key statistics - including fairways hit, greens in regulation and putts - through the trolley's touchscreen display.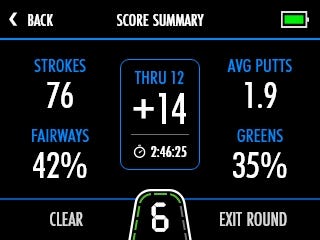 Performance Analysis
View scoring and statistic summaries during play, before uploading to our database for future tracking and analysis through the FREE Motocaddy GPS app.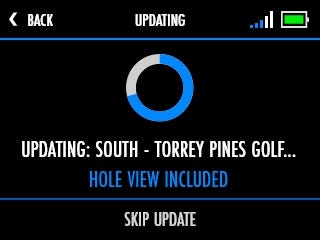 Automatic Course Updates
Play with complete peace of mind thanks to automatic course updates using the inbuilt cellular network connectivity and have confidence that you're always playing with latest mapping.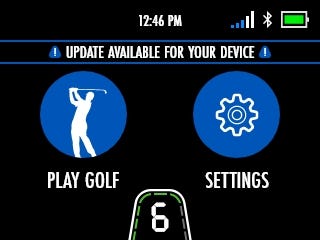 Firmware Updates
It's never been easier to keep your trolley software up to date with automatic notifications of new releases and 'on-the-go' downloads.
To take full advantage of the scoring and statistic 'Performance Analysis' feature, users will also need to install the latest version of the free Motocaddy GPS App – available on compatible iOS and Android smartphones - and register/login using the same details on both devices.
---
How much does it cost?
We are delighted to be able to offer all new & existing M5 GPS, M5 GPS DHC, M7 GPS & M-TECH GPS owners a no obligation FREE trial for a limited period:
M5 GPS / M5 GPS DHC* | 6-months
M7 GPS / M-TECH GPS | 12-months
The FREE trial will be activated when registration has been completed on the trolley handle and will run for the time period shown above. No credit card details are required during the registration process. Following completion of the FREE trial period, users will be given the option to activate a paid subscription or revert to 'standard' functionality with Performance Plan features disabled.
Annual subscriptions will be priced at £49.99* (€59.99*/$69.99*) and provide the subscriber with full access to Performance Plan features for a 12-month period.
Full Performance Plan Terms & Conditions are available to view using the below link.
*Performance Plan functionality is not available on M5 GPS models in North America.
---
How do I get started?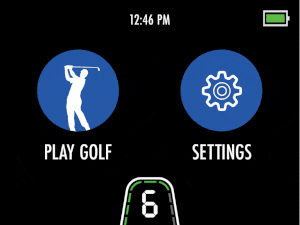 Before you can access the exciting features offered by the Motocaddy Performance Plan, you will need to check that your trolley software is updated to the latest version (1.21.1_2.0.142). This will enable cellular connectivity and display a notification allowing you to register for the FREE trial of the Performance Plan.
To ensure your trolley is updated to the latest version, you will need to connect to a WiFi network & manually 'Check for Updates' through the home settings menu. Due to the file size, the firmware update will need to be installed using a WiFi network.
IMPORTANT - DO NOT attempt to use your trolley while the update is in progress.
*Pricing subject to change as detailed within Performance Plan terms & conditions.
FAQs
How do I continue the Performance Plan following my free trial?
We are currently experiencing some delays with the launch of the Performance Plan subscription platform. If your Performance Plan free trial has expired, and you would like to continue with the additional Performance Plan features, please email app@motocaddy.com. Please email your date of expiry, trolley device ID (found in 'Settings', 'About'), and your trolley serial number (beginning 'MC', located on the underside of your trolley). With this information, we will be able to assist you.
I'm having technical difficulties with registering for my free trial. Please can you provide assistance?
Registering for software trial – if able to log into the app
Please follow the process below. This will refresh the app, pair your trolley with your phone and connect the trolley to Wi-Fi, enabling you to register for the Performance Plan trial.
Firstly, we are going to refresh the Motocaddy mobile app:
1. Open the Motocaddy Mobile App, select the three lines top right
2. Select 'Log out'
3. Close the Mobile App
4. Open the Mobile App
5. Upon opening the Mobile App, your username (email address) may already be populated, please take a note of this email address
6. Enter your password and 'Login'. Ensure your App has successfully logged in.
Then, pair (or re-pair) your phone and trolley by the following:
1. On the trolley select 'Settings' > 'Reset all settings'
2. On the trolley select 'Settings' > 'Bluetooth' > 'Yes'
3. You will have the Bluetooth symbol in the top right hand corner of the trolley display to confirm Bluetooth is on
4. Turn on your mobile phone's Bluetooth. View any paired or remembered devices, if Motocaddy is listed, please select the 'i' or cog next to Motocaddy, and 'Forget' or 'Remove' the device
5. Open the Motocaddy mobile app, and ensure you are logged in to the app
6. On the Motocaddy app you will have two options: 'Search Courses' and 'Pair Device'/'My Devices'. If 'Pair Device' is the option then the phone is ready to be paired. If 'My Devices' is the option, please select this and then select 'Remove device'
7. Select 'Pair Device', making sure you select either 'Motocaddy M5 GPS Electric Trolley' or 'Motocaddy M5 GPS DHC Electric Trolley' or 'Motocaddy M-TECH Electric Trolley' depending on the model of your trolley.
8. Select 'Next'
9. Select 'Pair device'
10. Select 'Pair' in the bottom right hand corner of the trolley AND phone.
Lastly, connect to Wi-Fi and subscribe to the Performance Plan:
1. Connect the trolley to Wi-Fi. Select your trolley 'Settings', 'Wi-Fi', select 'Wi-Fi disabled' and select 'On' then 'Close'. This screen should now say 'Wi-Fi enabled' and 'Select network' (which will appear underneath 'Wi-Fi enabled').
2. Tap 'Select network' and choose your Wi-Fi network, this will then allow you to enter your Wi-fi password and press enter. A blue tick will appear next to the Wi-Fi network, to show it is connected.
3. Return to your trolley 'Settings' and scroll down to 'Registration/Subscription'. Go through the registration process on the trolley using the email and password you use for the app.
I hope this process resolves your issue. If you require further assistance, please let us know by emailing support@motocaddy.com.
Back to top