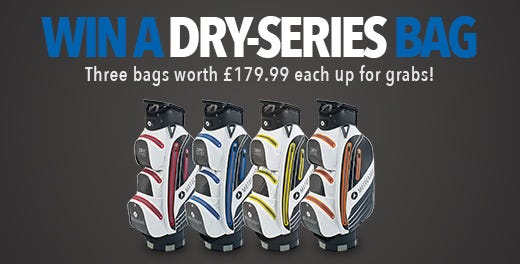 We are pleased to announce the winners of our recent 'Win a Dry-Series Bag' competition run between 29th April and 10th June.
Introduced last season as our first 100% waterproof cart bag, the upgraded Dry-Series model is our most technical yet, with a durable 2000mm-coated waterproof fabric, heat-welded seams and enlarged apparel pockets that boast 20% wider zip openings for even easier access to waterproofs and equipment.
To celebrate the launch we were giving away a new Dry-Series bag worth £179.99 to three lucky entrants who correctly answered the following question:
How much larger are the zip openings on the new Dry-Series model?
We were delighted to receive over 7,500 entrants who correctly answered that they were '20% larger' and a random selection chose Keith Howe, Roy Callow and Gary Burdett who will now each receive a Dry-Series bag in the colour of their choice.
Congratulations to our winners and thanks to everyone who entered....