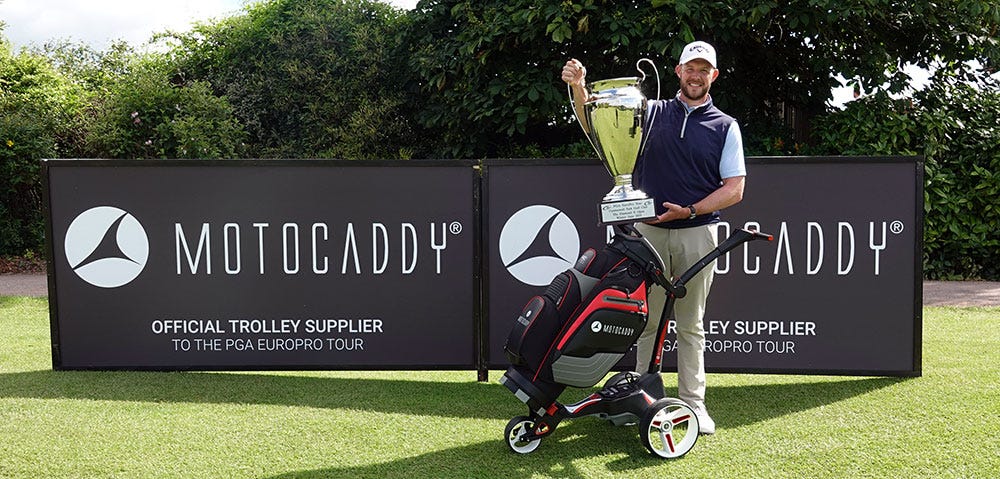 Luke Joy has won The Diamond X Open at Cumberwell Park by three shots after going three under on his final round to see off Conor O'Neil.
Joy of Remedy Oak/Yas Links Abu Dhabi was on top after day one after a round of 62 and he backed that up with rounds of 66 in the following two days. It was 19 birdies for the week and two eagles for Joy.
On victory, Joy said: "I absolutely loved it to be honest. It's quite nice being at home. I've played Cumberwell loads as a kid. So it's nice to get a win. I lost in a playoff in my first year as a pro, I think it was. I enjoyed it. It's good."
He added: "It's one of those golf courses where you can go really low at any one point. I didn't really watch the leaderboard much. So until 17, I noticed I had a three-shot cushion so that was quite a nice walk up to 18."
Ryan Campbell (Falkirk Golf Club) finished up second on fifteen under after back to back birdies on the last two holes for rounds of 66, 65 and 67.
Joy on Campbell: "We had a really chilled out group (Campbell and Locke). Ryan had a mishap on ten but came back really strong on the back nine and he sort kept me pushing. When you've got that it's great, you keep your foot on the gas."
Conor O Neil (Pollok / Mearns Castle) was seven under on his final round to finish third on fourteen under.
The best round of the day came from Hugo Dobson (Woodbridge Golf Club) who recovered from one over on his first round to tie for fourth on thirteen under after shooting a final round of 63. Jack Colegate (Rochester & Cobham Park GC) had a good week throughout with rounds of 66, 67, and 67 to come out tied fourth with Dobson and Laurie Canter of Cumberwell Park.
Another notable round came from Jamie Dick (Forest Hills Golf Club) going six deep in his final round to come out seventh.
Seve Benson (Wentworth Club), Jamie Rutherford (Knebworth Golf Club) and Freddie Price (Royal Blackheath Golf Club), Lawrence Allan (Alva Golf Club), Scott Fallon (North Middlesex Golf Club), Dermot McElroy (Ballymena Golf Club) and Will Enefer (Retail Furniture Ltd) all tied for eighth on eleven under.
Highlights of The Diamond X Open will air on Sky Sports on 2, July 2019 at 20:00.
Motocaddy has been selected as the 'Official Electric Trolley' of the PGA EuroPro Tour for the fourteenth consecutive year. The PGA EuroPro Tour is the leading developmental tour in Europe with the top five players from the Order of Merit receiving exemptions onto the 2020 European Challenge Tour.