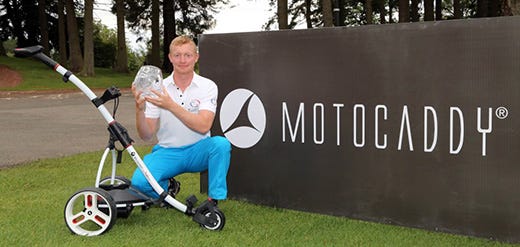 Andrew Cheese claimed his first HotelPlanner.com PGA EuroPro Tour title via a play-off after finishing tied with Jack Colegate and Jonathan Caldwell in the Break90 Classic at De Vere Slaley Hall.
Cheese, Colegate (Deangate Ridge Golf Club) and Caldwell (Clandeboye) all concluded the 54-hole event 12 under par on Slaley Halls' par-72 Priestman Course, with Colegate's three rounds including a course-record 63 on the second day.
At the end of regulation play the trio headed back to the 18th-tee for the sudden death play-off, where it was Cheese's approach shot which made the difference. The Sutton Coldfield man put his ball to within inches of the pin, leaving himself a gimmie putt for birdie.
Colegate, who himself played a tremendous approach after hitting his tee shot right, two-putted for par and Caldwell chipped on from just off the back left edge of the green before holing his first putt to also make par.
The win is Cheese's first on the HotelPlanner.com PGA EuroPro Tour, and comes in his first season on Europe's third-tier tour, however the 26 year old is a multiple winner in regional tour events. He moves up to sixth on the Race To El Gouna, from which the top five at the end of the season earn a Challenge Tour card for 2015.
"When myself and Caldwell came in I think we were one behind and at the time Colegate had four holes to play," explained Cheese, who wins £10,000, a brand new Motocaddy and a Shotsaver range finder.
"I had a putt on the last as well which had been a good chance to get to -13 but I missed it and in all honesty thought that was it, but luckily it was enough to get in the play off.
"I was pleased with the approach shot, it was good. Playing down the hill you never know how far it is going to go but it pitched and landed in a place as good as it could have been without going in.
"It means a lot to get this win. Coming into the season I was looking to make a few cuts and get used to playing at this level, but I have done better than I expected so far. Hopefully I can push on now and get into those top five positions."
Spaniard Sebastian Garcia Grout finished fourth, two behind the leading trio, while Sam Connor, Ross Kellett and Michael McGeady all completed the tournament nine under par and tied fifth.
Highlights of the Break90 Classic will air on Sky Sports on Tuesday, August 26 at 8pm, repeated at various times the following day. The next HotelPlanner.com PGA EuroPro Tour event is the WPT Invitational at Prince's Golf Club in Sandwich, Kent, which begins on Tuesday.
Motocaddy has been selected as the 'Official Electric Trolley' of the PGA EuroPro Tour for a ninth consecutive year. The PGA Europro Tour is the leading developmental tour in Europe with the top five players from the Order of Merit receiving exemptions onto the 2015 European Challenge Tour.