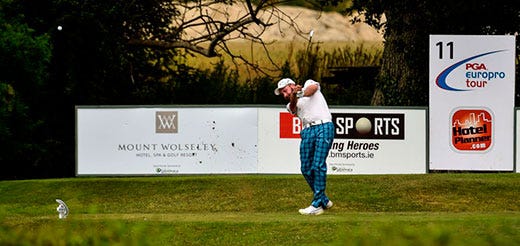 Stuart Archibald won his first HotelPlanner.com PGA EuroPro Tour title since 2011 with victory at the Walk In My Shoes Open at Mount Wolseley Hotel, Spa & Country Club in Co. Carlow, Ireland.
The Englishman carded a final round 69 to finish 14 under par, two clear of second placed Michael McGeady (North West Golf Club), who shot 66 for his final round on the par 72 course.
The victory is Archibald's third win on the Tour and propels him to eighth on the Order of Merit, from which the top five at the end of the season earn a Challenge Tour card for 2014.
Archibald collected a winner's cheque for £10,000, plus a brand new Motocaddy S1 PRO trolley. However, following a bet with former European and PGA Tour player turned TV pundit John E. Morgan, the 30 year old must now also dye his beard blue.
"I wasn't really sure about this week," admitted Archibald. "I wasn't sure how the course would play. It is quite firm and the greens are soft but we weren't really sure if it was going to be a low scoring week, so when Watts went a bit crazy the first two days I was teeing off for my second round and thought it would be a struggle to catch him.
"My group for the second round managed to shoot a combined score of 20 under par, so we all carried each other through and that put me in a good position for the final round. I had a target in mind of 14 under and I thought that might get me there, and it proved the case.
"At dinner on Tuesday evening John Morgan was reminiscing and we shared stories. He told us all about how he had blue hair when he played PGA Tour, and he has been on about my beard all year long. He has told me not to shave it, to keep growing it.
"He said he would love to dye it, and I wasn't so keen. But I told him if I won this week I would let him dye it any colour he wanted, and he went for blue. I have shot myself in the foot there so next week at Moor Allerton I will let John dye the beard blue.
"We have played in Ireland every year since I started playing the tour and we always get great support, so I want to thank everybody for that."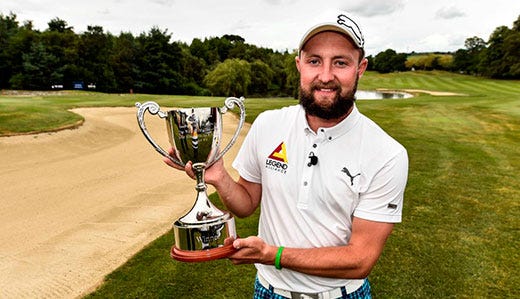 Overnight leader Watts finished third on ten under after a final-round 71 and Billy Hemstock (Teignmouth Golf Club) and Richard Kilpatrick (Banbridge Golf Club) shared fourth on eight under.
Ireland's Mark Murphy forced himself into contention with eight birdies on the front nine. However, a double at the tenth and a bogey at 11 saw him slip back and he signed for a final-round 65 (-7) with a birdie at 14 to finish the tournament seven under and tied sixth with four other golfers, including Nick McCarthy who shot 29 for his back nine to card a 65.
Highlights of the Walk In My Shoes Open, including more on John E. Morgan's blue beard bet with Archibald, air on Sky Sports on Tuesday, August 12 with repeats the following day. The HotelPlanner.com PGA EuroPro Tour heads to Leeds next week for the Clipper Logistics Championship at Moor Allerton Golf Club.
Motocaddy has been selected as the 'Official Electric Trolley' of the PGA EuroPro Tour for a ninth consecutive year. The PGA Europro Tour is the leading developmental tour in Europe with the top five players from the Order of Merit receiving exemptions onto the 2015 European Challenge Tour.