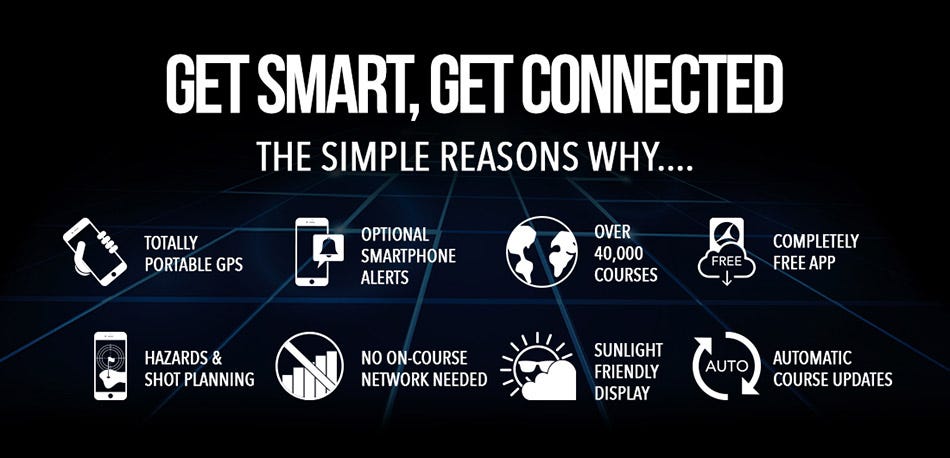 The revolutionary S5 CONNECT has attracted a huge amount of interest since its launch this summer. The much-hyped Smart Cart – the most technologically advanced trolley in the world – has seen unprecedented demand with early sales breaking all expectations.
Available for both iOS and Android devices, the fully-featured app syncs with the revolutionary S5 CONNECT electric trolley; providing front, middle and back distances, plus a wide-range of optional smartphone alerts direct to the trolley's digital display. Free to download and with no subscription fees, it is no wonder nearly 30,000 golfers are already taking advantage of the wide range of features on offer.
Unsurprisingly, the S5 CONNECT's combination of Motocaddy quality and standout design with ground-breaking technology has proven a big hit with the golfing media....
"The S5 CONNECT is a truly revolutionary piece of golf equipment that has been designed to meet the needs of the modern golfer." David Cunninghame, Bunkered
"Motocaddy have dovetailed trolley and GPS with apparent ease, and golfers are the biggest beneficiaries." Charlie Lemay, Golf Magic
"Motocaddy is always coming up with new ideas to improve the trolley-user experience, but the S5 CONNECT tops the lot." Joel Tadman, Golf Monthly
Building on this, Motocaddy has announced the launch of the GET SMART, GET CONNECTED campaign to promote the impressive range of revolutionary features offered by the S5 CONNECT and allow comparison with other GPS devices and trolleys, helping golfers to find the best product.
The simple reasons to GET CONNECTED are:
TOTALLY PORTABLE GPS

As the world's first Smart Cart, the S5 CONNECT does not have the GPS processor built into the handle, allowing you to take your distances with you wherever you're playing golf- with or without your trolley.

OPTIONAL SMARTPHONE ALERTS

Choose to receive missed calls, texts, emails and other app alerts direct to your S5 CONNECT screen. Alerts can be easily managed, giving you complete control over which are displayed.

OVER 40,000 COURSES

Utilising the world's leading and largest golf mapping database, the S5 CONNECT provides accurate GPS information for over 40,000 courses around the world.

COMPLETELY FREE APP

The S5 CONNECT app can be used in place of a traditional GPS device and comes with no download or subscription fees. The app is available for both IOS and Android devices.

HAZARDS & SHOT PLANNING

The Motocaddy GPS app provides full access to detailed overhead course maps including distances to hazards, green zoom and shot planning functionality.

NO ON-COURSE NETWORK NEEDED

No phone coverage? No panic. Pre-load the course on Wi-Fi or 3/4G before your round and power your S5 CONNECT handle with GPS distances while you play, even if you don't have any on-course phone reception.

SUNLIGHT FRIENDLY DISPLAY

The S5 CONNECT LCD smart display has been optimised for use in all weather conditions including bright sunlight. Opt for Twilight Mode for excellent visibility in poor light conditions.

AUTOMATIC COURSE UPDATES

The latest course maps are automatically downloaded every time you play, ensuring you always have up to date distances at your fingertips without the need to connect to an external device.
The new S5 CONNECT is available in Black or Alpine with Standard or Extended Lithium battery, with both options now including a full five-year warranty. Don't just play. Perform.