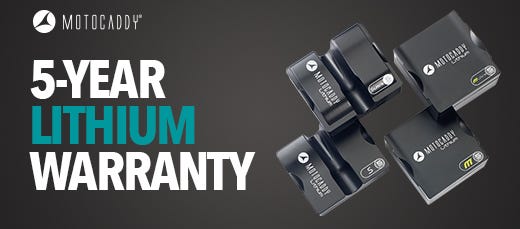 In another pioneering move in the powered trolley market, top-selling brand Motocaddy has introduced a full 5-year warranty* on any new Motocaddy Lithium battery purchases.
From 1st January 2017, all Motocaddy Lithium batteries sold – including those purchased with a Motocaddy electric trolley - will be eligible for the new warranty which replaces the previous 'limited' cover and adds three additional years to the existing all-inclusive, two-year period.
The initiative comes a year after Motocaddy became the first trolley brand to close the price gap between models sold with Lithium and Lead-acid batteries to just £100 – a drop of £50 on previous price points. The move has seen demand for Motocaddy electric trolleys sold with a Lithium battery reach a record high, accounting for more than 90% of overall Motocaddy trolley sales last season – compared with 63% in 2015 and 24% in 2014.
"This represents another 'first' for Motocaddy in the powered trolley market and shows how much confidence we place in the quality of our Lithium batteries," said Sales Director Neil Parker. "It also provides a very positive message about the reliability and long-term value of the Lithium battery models," he added.
Motocaddy has continued to drive the market towards Lithium with the high-profile 'Time To Go Lithium' campaign launched three years ago; including a series of advertisements, videos and extensive point of sale material presenting golfers with compelling reasons to switch to the lighter, more reliable battery technology that boasts greater value for money as a key selling point.
Further information can be found on the warranty information page.
*terms and conditions apply