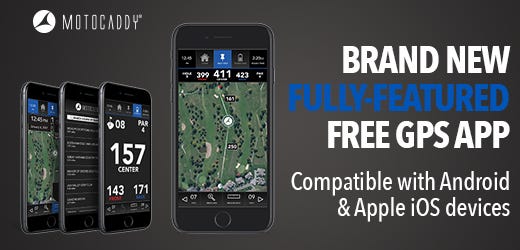 Following news of the revolutionary S5 CONNECT 'Smart Cart', Motocaddy has launched its first-ever mobile phone app – available free to download on iOS and Android. Featuring a number of easy-to-use modes, the S5 CONNECT's 'companion app' can be used without syncing to the trolley, making it a fully-featured mobile GPS device.
Through the 'Play Now' mode, some 36,000 courses worldwide are accessible with overhead maps and detailed yardages, distance of the last shot and dedicated greenside information. Golfers can also use the 'Shot Planning Control' to pinpoint how far any target is on the course; while the automatic course recognition and hole advancement enables the app to move between holes and view the lie of the land during play.
The 'Power Save' option changes the look of the app simply providing front, middle and back yardages as well as a round timer, the hole number, par of the hole and clock, while preserving phone battery capacity and reducing data usage in the process.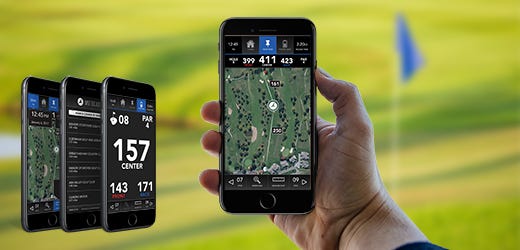 "We've partnered with a world-renowned golf GPS mapping company in the United States to provide the most advanced technology ever found in a free mobile golf GPS app," said Tony Webb, Motocaddy Managing Director.
"The app is simple to use with the added ability to pre-download the course, so if you're away on a foreign golfing holiday, you can continue to access GPS information without having any data roaming turned on. It also provides maximum portability as the app can be taken anywhere on the course," he added.
Soon to be available in five different languages (English, French, German, Spanish and Swedish), the Motocaddy GPS App is free to download now from the Apple App Store and on Google Play. In addition to the wide-range of GPS features on offer, the app also includes a support section offering links to the Motocaddy website, a check for recent updates, mapping requests, instruction manuals and app specific FAQ's.
Click here to find out more about the S5 CONNECT 'Smart Cart'.