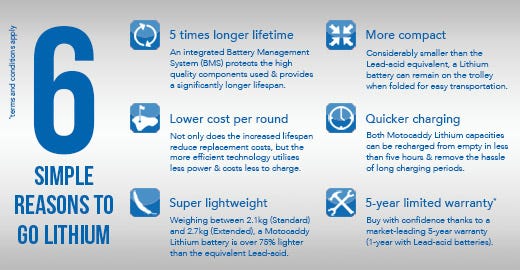 Following the successful pre-Christmas Lithium Cashback promotion, we are aiming to maintain momentum by making our new 2016 Lithium trolley range more affordable than ever before.
In a ground-breaking move from the start of March, the price gap between models sold with Lithium and Lead-acid batteries has been reduced to just £100 – a drop of £50 on previous prices – with golfers able to purchase a Lithium-powered trolley from the 2016 range for less than £400.
Sales of trolleys fitted with Lithium batteries represented more than 80% of overall Motocaddy trolley sales for the period leading up to Christmas. This attributed to significant year-on-year growth in trolleys sold with Lithium batteries, with sales during the rest of 2015 at 63% - up from 34% the year before.
"The response to our Cashback promotion was so strong that we felt the time had come to sustain the momentum by making Lithium more affordable for our customers," said Sales Director Neil Parker. "We first started championing Lithium as early as 2008 and demand has never been higher, so this season could be our last offering Lead-acid battery options," he added.
The high-profile Motocaddy 'Time To Go Lithium' campaign was launched two years ago and has included a series of advertisements, videos and extensive point of sale material; presenting compelling reasons to switch to the lighter, more reliable and better value for money long-term power source.
Watch our video and let Jeremy Dale tell you even more reasons to GO LITHIUM....