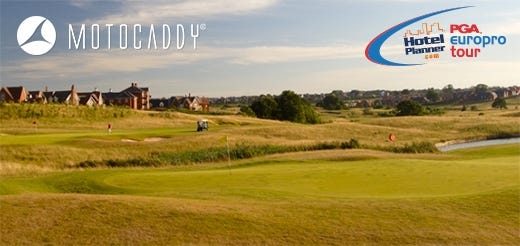 The HotelPlanner.com PGA EuroPro Tour season resumes this week with the Motocaddy Masters at Wychwood Park Golf Club in Cheshire.
As the season heads into the home straight with five events left, one man has dominated the Race to Amendoeira. Chris Lloyd sits comfortably in first place more than £14,000 clear of Nick Marsh in second. And a win at Wychwood Park for Lloyd would not only be a EuroPro record of four wins in a single season, but also the coveted £250,000 four-win bonus.
The Motocaddy Masters tees off on Wednesday, August 9. All players will play 36 holes before a cut to the leading 50 professionals and ties is made after Thursday's second round. The winner after Friday's final 18 will take home £10,000 from the £50,000 total prize fund.
The EuroPro Tour returns to Wychwood for the first time since 2012, and provides ample opportunity for Lloyd to make EuroPro history along with £250,000.
Richard Bean, Head of Golf at Wychwood Park, said: "It is an absolute pleasure to welcome back the EuroPro Tour to Wychwood, the whole club is very excited to host such a prestigious event."
He added: "We have some fantastic local players in the form of Jason Timmis, Sam Connor, and James Need. We also have club member David Edwards playing and would like to wish them well along with all of the other competitors."
Motocaddy, the UK's top-selling trolley brand, has given players on the PGA EuroPro Tour an extra incentive ahead of the Motocaddy Masters event by offering a brand new S5 CONNECT electric trolley as a special winning prize.
As well as its GPS and mobile alert capabilities, the S5 CONNECT includes the modern look and features found on the latest Motocaddy S-Series models – including a soft-touch ergonomic handle; streamlined battery tray to accommodate the full range of Lithium batteries; the exclusive super- fast QUIKFOLD mechanism; low-profile, quick release wheels; Adjustable Distance Control (up to 50 yards) and compatibility with the brand's popular EASILOCK™ bag-to-trolley connection system.
Motocaddy Marketing Manager Oliver Churcher said: "We are proud to continue our long-standing sponsorship of the PGA EuroPro Tour and headline the Motocaddy Masters at Wychwood Park. The standard of play is incredibly high and it is great to see so many top players relying on Motocaddy trolleys to help them perform at each event."
A two-hour highlights package from each event is broadcast on Sky Sports Golf, and on 98 networks around the world reaching 400 million homes. In addition, every event is available to watch on demand in high definition on YouTube.
Spectator entry is free of charge throughout the week and live scoring will be available at www.europrotour.com.
Motocaddy has been selected as the 'Official Electric Trolley' of the PGA EuroPro Tour for the twelfth consecutive year. The PGA EuroPro Tour is the leading developmental tour in Europe with the top five players from the Order of Merit receiving exemptions onto the 2018 European Challenge Tour.