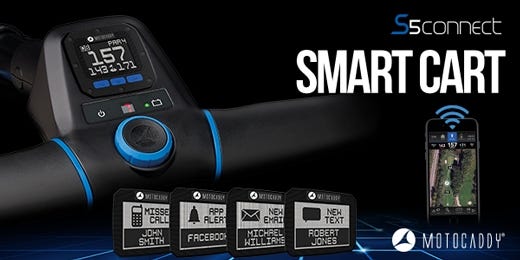 Motocaddy, the top-selling trolley brand, has unveiled its most technologically advanced model, along with a free GPS app that connects to the trolley providing distance data and mobile alerts at over 36,000 courses around the world.
The S5 CONNECT trolley can be synced to the Motocaddy GPS App via a Bluetooth® connection on any compatible smartphone; allowing the trolley's digital display to be used in place of a conventional GPS, offering golfers front, middle and back distances to the green (in yards or metres), along with the par of the hole, clock and round timer. The digital control button works in the same way as other Motocaddy models, regulating the nine speed settings and stopping and starting as required around the course.
The new trolley can also receive and display notifications alerting the golfer to missed calls, text messages, emails or range of app alerts, including WhatsApp and Facebook. Notifications can be preset within the Motocaddy app settings, offering complete control over which are received. The smartphone can remain connected, even when securely placed in a golf bag pocket or being charged using the trolley's patented USB charging port.
The S5 CONNECT includes the modern look and features found on the latest Motocaddy S-Series models - including a soft-touch ergonomic handle; streamlined battery tray to accommodate the full range of Lithium batteries; the exclusive super-fast QUIKFOLD mechanism; low-profile, quick release wheels; Adjustable Distance Control (up to 50 yards) and compatibility with the brand's popular EASILOCK™ bag-to-trolley connection system.
The trolley is also available in a Downhill Control version. The S5 CONNECT DHC model maintains a constant speed while moving down a gradient - thanks to a special motor that adjusts power output automatically to control the rate of descent – and offers downhill breaking coupled with an electronic parking brake to hold its position on the steepest slopes.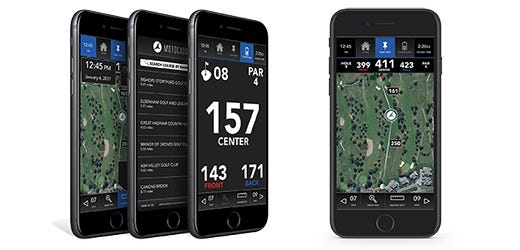 The brand's first-ever mobile phone app – available free to download on iOS and Android – has already had over 25,000 downloads. The app features some 36,000 courses worldwide with overhead maps and detailed yardages, distance of the last shot and dedicated greenside information. A 'Shot Planning Control' pinpoints distances to any point on the golf course; while the local course search and automatic hole advancement enables the app to move between holes and view the lie of the land during play. Preserving battery capacity, the 'Power Save' mode provides front, middle and back yardages, plus a round timer, clock, hole number and par.
Available in five different languages (German, English, French, Spanish and Swedish), the app is available to download from the Apple App Store and on Google Play.