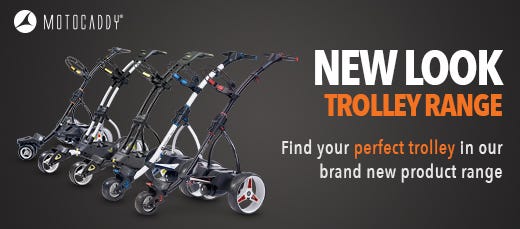 The award-winning S1 – the world's favourite electric golf trolley first introduced in 2006 – and its feature-packed partner the S3 PRO have been updated with stylish new looks and hi-tech performance enhancing features ready for the 2016 season.
NEW S1 - Simplicity at its heart
The latest S1 model incorporates a number of improvements, including a soft-touch ergonomic handle; low-profile, quick release wheels; a streamlined battery tray to accommodate the full range of batteries; and the super-fast QUIKFOLD mechanism introduced to great acclaim on the S3 PRO in 2014.
Added to these features are nine speed settings, a battery indicator, whisper-quiet motor, adjustable bag supports and compatibility with the EASILOCK™ bag-to-trolley connection system included across the entire Motocaddy bag range.
NEW S3 PRO - Innovation to the core
The innovative S3 PRO has also taken on a brand new look for this season. It offers the same new stand-out design features as the S1, but with the addition of a more user-friendly, high-resolution full colour screen. The simplified layout of the new screen makes it even easier for golfers to take advantage of the wide-range of performance functions on offer.
In addition to the Adjustable Distance Control (up to 60 yards) and the patented USB charging port to power GPS devices while in play, the gadget-filled S3 PRO also features a CartLock security pin code, clock, round and lost ball timers, advanced battery meter and three distance measurements (drive, round & lifetime).
M1 PRO & M3 PRO models - Focussed on space
The latest versions of the compact M1 PRO and M3 PRO fold more than 40% smaller than standard models, thanks to the innovative three-point folding system, which also allows the battery to remain in its tray when the trolley is folded down.
Stand-out features on the sleek M1 PRO include an Integrated Accessory Station; Adjustable Distance Control (up to 50 yards) with speed and battery indicators; handle height adjustment; and a quick access device cradle, designed to hold a range of GPS devices that can also be powered from a patented USB charging port.
The award-winning M3 PRO provides golfers with the same wide-ranging features as the M1 PRO model, while adding a full colour screen with multiple distance readings. As well as a speed indicator and nine-speed settings, it offers Adjustable Distance Control (up to 60 yards), distance measuring (drive, round & life), clock, round and lost ball timers, plus competition mode.
All of the latest 2016 trolley models - including the continuing S1 Lite and M1 Lite manual trolleys, plus S7 REMOTE electric trolley launched last season - are available now in Black or Alpine.