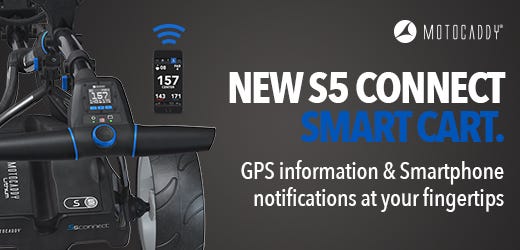 Motocaddy, the UK's top-selling trolley brand, has unveiled its most technologically advanced electric trolley ever along with a free GPS app that connects to the trolley to provide distance data plus mobile alerts.
Following extensive product development, the S5 CONNECT trolley can be synced to the app via a Bluetooth™ connection on any compatible smartphone; allowing the trolley's digital display to be used in place of a conventional GPS, offering golfers front, middle and back distances to the green (in yards or metres), along with the par of the hole, clock and round timer. The digital control button works in the same way as other Motocaddy models, regulating the nine speed settings and stopping and starting as required around the course.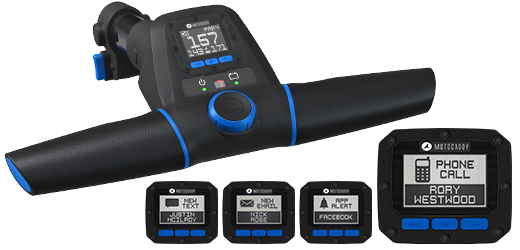 But, in another ground-breaking move, the new S5 CONNECT can also receive notifications alerting the golfer of an incoming call, text, email or range of app alerts including WhatsApp and Facebook. The phone can remain connected even when securely placed in the pocket of a golf bag or being charged by the trolley's patented USB charging port.
"The S5 CONNECT is at the forefront of golf technology and we're proud to be pioneering the next generation of electric trolleys," said Tony Webb, Motocaddy Managing Director. "It acts as the ultimate caddy for any golfer out on the course, as it carries your bag and gives you accurate yardages.
"The first iPhone was launched a decade ago and since then a lot has changed in golf technology. We're certainly not encouraging golfers to keep checking their phones during play, on the contrary, we believe the S5 CONNECT could actually reduce phone use because it tells you all you need to know and can be pre-set to let you focus on your game. It is also incredibly easy to disable notifications altogether when needed," he added.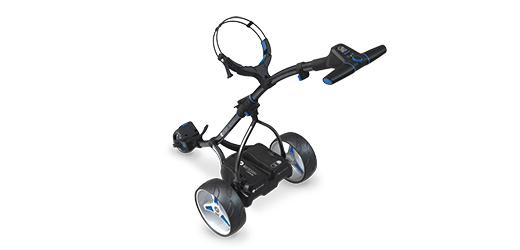 As well as the innovative 'smart' technology, the S5 CONNECT includes the modern look and features found on the latest S-Series models, including a soft-touch ergonomic handle; streamlined battery tray to accommodate the full range of Lithium batteries; the exclusive super-fast QUIKFOLD mechanism; low-profile, quick release wheels; Adjustable Distance Control (up to 50 yards) and compatibility with the EASILOCK™ bag-to-trolley connection system.
The S5 CONNECT will be available in Black or Alpine from Summer 2017 with Standard and Extended range Lithium battery options - both of which now include a full 5-year warranty.