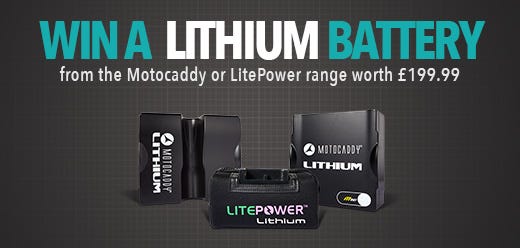 We are pleased to announce the three winners of our recent 'Win a Motocaddy Lithium battery' competition run between 14/11/14 - 12/12/14 and promoted through our email newsletter, website and social media.
To be in with a chance of winning, we asked the following question:
How much longer will a Lithium battery last over a Lead-acid equivalent?
We were delighted to receive over 7,000 entries with 6,800 correctly answering 'Five times longer'.
A random selection process chose Elsa Wright (entry 6,622), Paul Revie (entry 5,826) and David Pittman (entry 211) as our three winners who will now receive their choice of Motocaddy or LitePower 18 hole Lithium battery worth £199.99.
Congratulations to the winners and thanks to everyone who entered! Please keep an eye on our website for future chances to win.