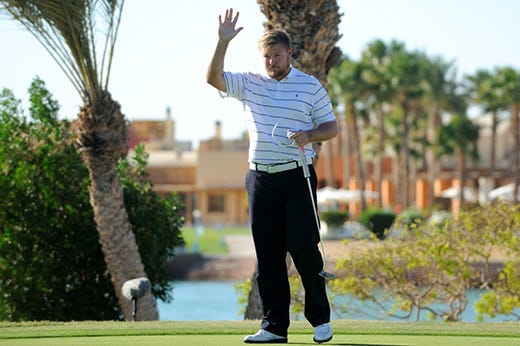 Elliot Saltman shot a final-round 70 to win the Visit Egypt Tour Championship at El Gouna Golf Club with a 54-hole score of eight under par, and the £15,000 winner's prize has catapulted him to the top of the final PGA EuroPro Tour Race To El Gouna.
The Scot has earned a category on the 2015 Challenge Tour and will be joined by Jack Senior, Peter Tarver-Jones, James Watts and Stiggy Hodgson on Europe's second-tier tour after they also finished in the top five on the Race To El Gouna.
Saltman (Archerfield Links Golf Club) began the final round with a two-stroke lead on six under and birdies at the second, fourth and ninth took him to nine under. Laurie Canter (Saltford Golf Club) and James Frazer (Pennard Golf Club) stayed in touch for most of the round, and Canter briefly levelled with Saltman at eight under thanks to birdies at 11 and 12, just as Saltman bogeyed the 11th.
Saltman returned to nine under with a birdie at the 13th. Canter signed for a final-round 68 (four under par), the best score of the day, to finish the tournament seven under. That left Saltman two clear as he came down 18 and though he made bogey after finding a fairway bunker, the Scot claimed a wire-to-wire victory for his first EuroPro Tour win since success at Fota Island in 2012.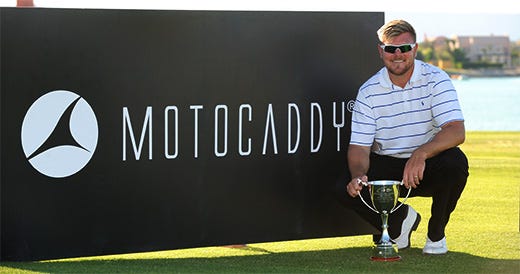 "Deep down I thought I had a chance this week," said Saltman. "I came into the tournament knowing my game was in really good shape. But to actually pull off the win, and in the circumstances, has really proved to myself that I am capable of doing it under pressure.
"Looking back, three rounds under par in windy conditions, I should congratulate myself. It is playing very, very tough. The scoring was good today and the boys did well trying to chase me down. The course is in great, great condition and you cannot let up for one moment.
"It is massive to win the Race To El Gouna, it is something I said I wanted to do at the start of the season.
Nick McCarthy (Moortown Golf Club) finished the tournament third on five under, three back, while Frazer took fourth on four under.
A two-hour highlights package of the Visit Egypt Tour Championship will be broadcast on Sky Sports HD on Tuesday, November 11.
Motocaddy has been selected as the 'Official Electric Trolley' of the PGA EuroPro Tour for a ninth consecutive year. The PGA Europro Tour is the leading developmental tour in Europe with the top five players from the Order of Merit receiving exemptions onto the 2015 European Challenge Tour.