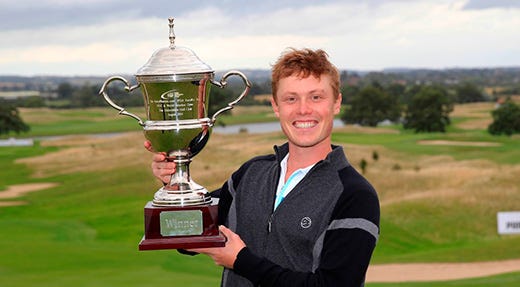 Peter Tarver-Jones claimed his second HotelPlanner.com PGA EuroPro Tour title in as many weeks with victory in the PDC & WSL Open at The Oxfordshire on Friday.
The Worthing golfer finished eight under par for his 54 holes with a final-round 70 (-2) to capitalise as overnight leader Richard Prophet's slipped down the leaderboard.
Prophet began the day four shots clear on -10 but bogeyed the first. He was quickly back to ten under with a birdie four at the second but back-to-back bogeys at six and seven narrowed his lead. He dropped shots again at nine and 11, although did have a birdie at ten sandwiched between those.
Another birdie came at the 13th to see Prophet regain a one-stroke lead over playing partner Tarver-Jones, who at this stage was seven under par.
However, the par-three fourteenth, usually the fifth at The Oxfordshire, spelt disaster for Prophet. He twice found the water, once off the tee and once from the green, and he took seven shots on the hole and dropped down the leaderboard, leaving Tarver-Jones one clear of Graeme Clark, who was in the clubhouse on six-under.
A birdie at the sixteenth gave last week's winner at Prince's a two-shot lead over Clark, who finished the tournament second after Tarver-Jones parred the final two.
The 26-year-old is the first golfer since Duncan Stewart in 2012 to win back-to-back HotelPlanner.com PGA EuroPro Tour events and in doing so moves to second on the Race To El Gouna, and with two events remaining is in a strong position to claim one of the Challenge Tour cards awarded to the top five at the end of the season.
"It is going to take a while to sink in," he said. "I am on cloud nine. I have been so focused on the golf course today and now, suddenly, I can let it go and let it sink in.
"I have put a lot of work in and that has paid off. I was patient today and I had said before the round that it was going to be tough; but it was brutal. The wind was up and the pins were hard, there were a few times where it could make a fool out of you if you aren't careful."
Highlights of the PDC & WSL Open will be broadcast on Sky Sports HD on Tuesday, September 8 with repeats the following day. The next HotelPlanner.com PGA EuroPro Tour event is at Mar Hall in Glasgow, commencing on Wednesday, September 3.
Motocaddy has been selected as the 'Official Electric Trolley' of the PGA EuroPro Tour for a ninth consecutive year. The PGA Europro Tour is the leading developmental tour in Europe with the top five players from the Order of Merit receiving exemptions onto the 2015 European Challenge Tour.